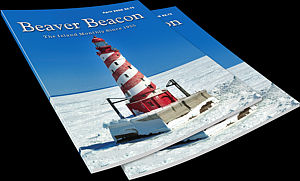 Paradise Bay Press publishing projects to date have included Discovering Beaver Island (1998) which is now sold out with an initial press run of 2,750 and The Beaver Beacon - the Beaver Island Monthly since 1955 with a monthly circulation of 1,200 winter to 1,420 summer (from August of 2002 until the current time.)
Island Design has done the prepress work and cover designs for The Child of the Sea and Volumes 4 and 5 of The Journal of Beaver Island History.
We also are very proud of our work with Ed Wojan on The Second Wojan-Cashman Map of Beaver Island, a 19 7/8" x 28 7/8" full color Beaver Island Map published by Ed Wojan Realty, drawn by Island Design as directed by Ed Wojan, and distributed by the Beaver Island Chamber of Commerce, with the first run of 15,000 maps printed by Mitchell Graphics.